The We Got Your Back Campaign
The homeless population is in a crisis in our society. At Danna we believe that how a society treats the least among us is a reflection on all of us. With that said, homelessness is a complex problem and the solutions required to fix it require revamping our views and programs revolving around mental health, addiction, affordable housing, and public services. In the meantime, we at Danna are trying to make life just a little easier for those living on the streets.
The We Got Your Back Campaign came out of an experience one of our founder's, Anna Rollins-Stanger, had several years ago. She noticed a homeless woman struggling to manage her belongings, mostly in a plastic garbage bag. Things were falling out and she could see the woman becoming frustrated. Imagine having to keep all of the things you depend on for your life with you at all times. It truly would be a challenge. Anna quickly ran to a department store, purchased a backpack and some necessities and went back to the area where she saw the woman.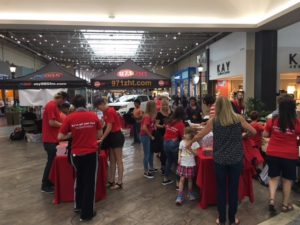 It took some time to find the woman again, but when Anna found her and gave her the backpack, the woman  threw her arms around her, thanking her for her kindness. It was a small act of kindness that truly had an amazing impact on this homeless woman.
The We Got Your Back Campaign provides backpacks with some necessities, water, toothbrush, socks, etc., to the homeless population. Our hope is to see this campaign continue to grow throughout the country providing just a little comfort to those on the streets. We distribute our filled backpacks through frontline charities who are our partners in We Got Your Back. Here are a some of their thoughts:
Covenant House, Atlanta, GA
Our mission wouldn't be possible without our incredible community partners who come alongside us to support our youth. Organizations like the Danna Foundation provide critical support that allows our youth to thrive. Many of our youth come to us lacking basic necessities, self-confidence, and even a bag to keep their belongings in. Providing a fully stocked backpack from the Danna Foundation to each youth who comes through our doors is the first step to changing that. The backpack itself gives our youth dignity in that they no longer have to carry their items in grocery or trash bags. The backpacks include hygiene items that build our youths' confidence and allow them to live healthier lives. It is through the generosity of partners like the Danna Foundation that we are able to support our youth through an uncertain and difficult period of their lives.
 Alpha Project, San Diego, CA
Backpacks are the gold standard here at Alpha Project.  When we are able to offer our clients something like this in order for them to meet with their case manager or social worker and encourage them to follow through with tasks that are beneficial to their well-being, like getting tested for the COVID-19 virus,  they do it.  It is an incentive for them to participate in something that they might be reluctant to at first.  Once our clients start seeing their case managers and social workers, they realize they feel good about it, others are doing it and they continue to keep going.  It's a blessing to have items like backpacks to motivate our people.
The Danna Foundation and We Got Your Back are fortunate enough to be sponsored by Bridge Investment Group. Bridge is one of the top real estate investment companies in the country. A critical tenet of Bridge Investment Group, whether it be at their apartment communities, commercial space, or senior centers, is their commitment to people. Their residents and tenants are the lifeblood of their business. They strive to create vibrant communities where people are excited to live and work, and they invest dollars and time to support their well-being as well as the livelihoods of those in their broader communities. As such, Bridge has joined us as a driving force behind the We Got Your Back campaign.
The Danna Foundation is grateful for this valued partnership. Over the next several months, many of the backpack stuffing parties will be held at Bridge apartment communities, senior centers, and commercial office space. We welcome anyone to join us at these events.